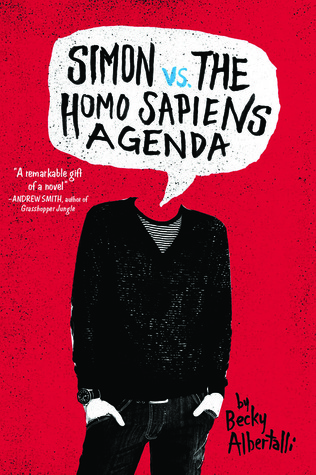 Title:
Simon vs. the Homo Sapiens Agenda
Author:
Becky Albertalli
Series:
-
Genre:
Young Adult, Contemporary, LGBT, Romance, Friendship
Pages:
303
Published:
April 7th 2015 by Balzer + Bray
My rating: 5/5


Summary: Sixteen-year-old and not-so-openly gay Simon Spier prefers to save his drama for the school musical. But when an email falls into the wrong hands, his secret is at risk of being thrust into the spotlight. Now Simon is actually being blackmailed: if he doesn't play wingman for class clown Martin, his sexual identity will become everyone's business. Worse, the privacy of Blue, the pen name of the boy he's been emailing, will be compromised. With some messy dynamics emerging in his once tight-knit group of friends, and his email correspondence with Blue growing more flirtatious every day, Simon's junior year has suddenly gotten all kinds of complicated. Now, change-averse Simon has to find a way to step out of his comfort zone before he's pushed out—without alienating his friends, compromising himself, or fumbling a shot at happiness with the most confusing, adorable guy he's never met (via Goodreads.com).
First sentences: "It's a weirdly subtle conversation. I almost don't notice I'm being blackmailed."
My review
Simos vs. the Homo Sapiens Agenda
is a solid 5-star-book. It was so funny and a very enjoyable read. I don't think there was anything I did not like about it, at least I can't remember disliking anything. So basically, I LOVED it! This is a book I could re-read in the future, although I've never done that before.
The. Writing. Was. Fantastic. Totally amazing. I loved how Becky Albertalli made all her characters vivid and lively with her easy-going-writing-style. She has a very modern and relaxed writing, which is perfect for this book.
"Why is straight the default? Everyone should have to declare one way or another, and it shouldn't be this big awkward thing whether you're straight, gay, bi, or whatever. I'm just saying."
Simon was a wonderful character. He was hilarious, super easy to like and he was very relatable. I really loved him and his personality. He seemed like a quiet and shy guy at first but the more I read, the more I changed my mind about him. He's actually a confident character who's proud to be who he is (even if it took a while for it to show completely). I love how Simon dealt with the blackmailing and I loved all the food talk too. It
actually
made the book funnier. Simon was obsessed with OREOS and it was hilarious. And
Blue
... What could I say about him? I had my 3 guesses about who he was but I was very wrong. It was a real surprise in the end. Anyhow, they were so cute together. I loved their nerdiness. Seriously, their flirting was nerdy and that was adorable.
"White shouldn't be the default any more than straight should be the default. There shouldn't even be a default."
This book brought up lots of different "problems". I liked that a lot. It brought up relationships between not only two people, but also between a group of friends and a family. That's important because that's real life. The book showed all these parts in a realistic way and I really appreciate that. Simon had problems with his family and with his friends (like real PROBLEMS) and with his love life. It was a roller coaster of feelings.
Why should you read this?
It's a book about real life problems but it has a hilarious side to it. It's actually a really funny book but also sad at some points. It's a perfect book with a cute romance between two super cute guys! Read it!