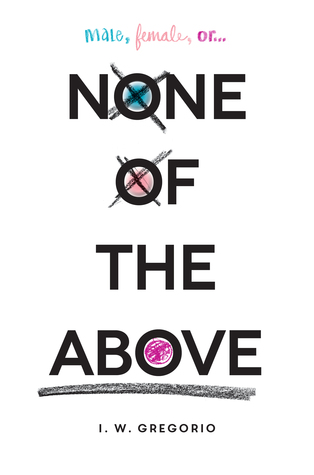 Title:
None of the Above
Author:
I.W. Gregorio
Series:
-
Genre:
Young Adult, Contemporary, LGBT, Friendship
Pages:
352
Published:
April 7th 2015 by Balzer + Bray
My rating: 4/5 stars


Goodreads summary: What if everything you knew about yourself changed in an instant? When Kristin Lattimer is voted homecoming queen, it seems like another piece of her ideal life has fallen into place. She's a champion hurdler with a full scholarship to college and she's madly in love with her boyfriend. In fact, she's decided that she's ready to take things to the next level with him. But Kristin's first time isn't the perfect moment she's planned—something is very wrong. A visit to the doctor reveals the truth: Kristin is intersex, which means that though she outwardly looks like a girl, she has male chromosomes, not to mention boy "parts." Dealing with her body is difficult enough, but when her diagnosis is leaked to the whole school, Kristin's entire identity is thrown into question. As her world unravels, can she come to terms with her new self?
First sentence: "Dawn is my favorite time of day."
My review
I actually really liked
None of the Above
, more than I thought at least and I finished it in about a day. It's a quite short book. It was informative, which I had expected, but it was at the same time a cute contemporary romance. I learned a lot from it, about intersex (AIS) mostly which I knew almost nothing about before.
When I read this book, I could really tell how much
I.W. Gregorio
knew about this subject (she is a surgeon after all). It's important that a serious subject like this one is brought forward in an honest and genuine way.. And it was!
"Love isn't a choice. You fall for the person, not their chromosomes."
I can't begin to describe how much I hated Sam, Kristin's
boyfriend
. He was such a horrible person and it makes me so angry that there are people like him in the world. He was so immature and selfish. Ugh I did not like that character. Kristin though, she was awesome and so strong. She seemed so nice too. Although she was popular, she always saw everyone. She was never a mean girl. Not like Vee. I didn't like her at all. She was a horrible friend to Kristin when she needed her the most. Garrett was without doubt my favorite male in None of the Above. He was lovely and cute. Perfect for Kristin!
"The biggest difference between boy and girls is how people treat them"
It feels like all the books I have read lately have dealt with different social and emotionals problems. This book did that too. The diagnosis is the biggest problem in this case but a big part of this book is friendship problems, and also family problems. I really like that as I have said dozens of times. I love Kristin's development throughout the book. From a total emotional wreck to confident in her own skin. Her way to get there wasn't easy either, which made the book much much better in my eyes.
Why should you read this?
None of the Above is an important book that I think everyone should read to learn more about how it is being intersex. I.W. Gregoria brings up the subject in an informative yet interesting and emotional way and I bet you'll learn a lot (if you don't know everything about intersex already, that is).
About I. W. Gregorio
I. W. Gregorio is a practicing surgeon by day, masked avenging YA writer by night. A graduate of the Yale School of Medicine, she studied creative writing at the University of Pennsylvania and Johns Hopkins University. While a surgical resident, she published in the San Francisco Chronicle, San Jose Mercury News and Washington Post. She lives in Pennsylvania with her husband and two children.