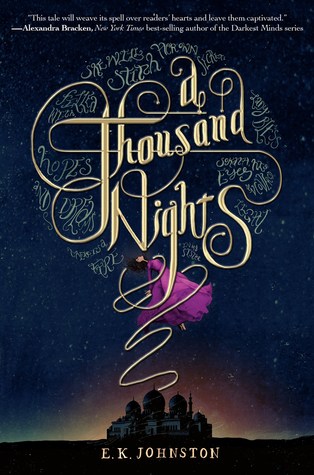 Title:
A Thousand Nights
Author:
E.K. Johnston
Series:
?
Genre:
Young Adult, Fantasy, Retelling
Pages:
336
Published:
October 6th 2015 by Disney Hyperion
My rating: 3.25/5


Summary: Lo-Melkhiin killed three hundred girls before he came to my village, looking for a wife. When Lo-Melkhiin - a formidable king - arrives at her desert home, she knows that he will take her beautiful sister for a wife. Desperate to save her sister from certain death, she makes the ultimate sacrifice - leaving home and family behind to live with a fearful man. But it seems that a strange magic flows between her and Lo-Melkhiin, and night after night, she survives. Finding power in storytelling, the words she speaks are given strange life of their own. Little things, at first: a dress from home, a vision of her sister. But she dreams of bigger, more terrible magic: power enough to save a king ...if only she can stop her heart from falling for a monster. Set against a harsh desert backdrop, A Thousand Nights by E K Johnston is an evocative tale of love, mystery and magic that would not feel out of place if Scheherazade herself were telling it. And perhaps she is... (via Goodreads.com).
First sentence: "We do not know why we came from the sea to this hard and dusty earth, but we know that we are better than it."
My review
I absolutely love folklore so
A Thousand Nights
sounded very interesting to me, but this book didn't live up to my expectations and that's so disappointing :( I was so hopeful to read it.
It took me such a long time to finish A Thousand Nights. I read it from November 21 to December 25. The reason? The book was
so
slow (or maybe I wasn't in the mood for it). All things that happened in between the biggest events were quite flat and boring in my opinion. The writing was beautiful (a little old-ish/traditional styled) but not so much my taste. I thought it was hard to follow the story and to get into a reading flow because of the writing. But it was indeed beautiful, I shouldn't be too negative.
I did not feel anything for the characters either. Not the main character, Lo-Melkhiin (obviously!) nor anyone else. And what's up with no names? It really bothered me not to know any names. I must have a character's name to feel something for it. The only name we got was Lo-Melkhiin basically. I don't recall getting the main character's name, but I may be wrong?
I didn't get the main character (whatever her name was). I didn't understand her power and the magical thing about her. It may have been the writing style that made me lose track of things, because I did that a lot in this book. Sometimes we were at one place and then we were somewhere else and that was rather confusing. Did it happen for real or was it a dream? Were you supposed to understand that? Because I didn't. Her relationship with Lo-Melkhiin was, let's say, very incomprehensible too.
The world was pretty though. I like where to book took place and the Arabian culture. Those things really made the story more interesting. I want to travel there. It looked so pretty in my imagination.
+ The cover is gorgeous. I love the design and all the dark colors!
+ The book is based on folklore. Love that!
+ The writing was very beautiful.
Why should you read this?
It's based on Arabian folklore (which is so interesting) and One Thousand and One Nights (kind of). If you like that - this book's for you.
About E.K. Johnston:


E.K. Johnston had several jobs and one vocation before she became a published writer. If she's learned anything, it's that things turn out weird sometimes, and there's not a lot you can do about it. Well, that and how to muscle through awkward fanfic because it's about a pairing she likes (via

Goodreads.com

).