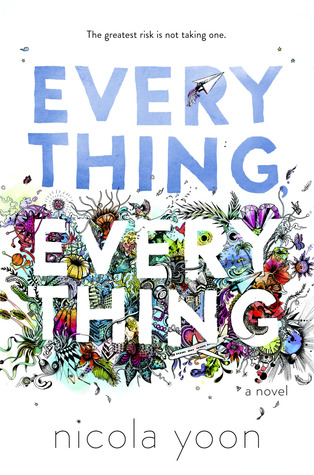 Title:
Everything, Everything
Author:
Nicola Yoon
Series:
-
Genre:
Young Adult, Contemporary, Romance
Pages:
320
Published:
September 1st 2015 by Delacorte
My rating: 5+/5


Summary: Madeline Whittier is allergic to the outside world. So allergic, in fact, that she has never left the house in all of her seventeen years. But when Olly moves in next door, and wants to talk to Maddie, tiny holes start to appear in the protective bubble her mother has built around her. Olly writes his IM address on a piece of paper, shows it at her window, and suddenly, a door opens. But does Maddie dare to step outside her comfort zone? (via Goodreads.com)
First sentence: "I've read many more books than you."
My review
I AM SPEECHLESS. Everything, Everything by Nicola Yoon may be the best book I've read this year. I'm so impressed by this book and its writer. It's her debut novel (!!) and it was such a fantastic read. I adored it and I loved it very very much. I'm really looking forward to reading Nicola Yoon's books in the future.
I have known about this book ever since it was release in September, but I never really knew what it was about. I had read the summary on Goodreads a few times but it didn't catch my attention until the other day. It was exactly what I was in the mood for and I am extremely happy that I picked this book up!
"Everything's a risk. Not doing anything is a risk. It's up to you."
The writing is flowy and easy. I loved all the different chapter styles. Some chapters were like 2 sentences and contained a lot of fun information (maybe not so important for the story (at least some of the chapters weren't), but it was an enjoyable thing anyways!). The book had illustrations/e-mails/messages in it too and that was awesome. The illustrations were actually really really pretty. Pretty illustrations and a pretty cover for a pretty book basically.
The characters were entertaining. My favorite character was definitely Madeline. She loves books and she has a book blog... How could you not love her?! She was such a good human too, very sincere and caring although she could have been the most awful and pessimistic person (if you think about what her disease has put her through). I loved Olly too. Although I didn't like their relationship. I didn't hate it, but it felt so unrealistic. I don't think it would happen in real life, if I put it that way (but it was cute!!). Carla (Madeline's nurse) was fantastic as well.
"Maybe growing up means disappointing the people we love."
I did ABSOLUTELY NOT see that end coming. Not at all. I really thought I did, but NO. Nicola Yoon was much smarter than I thought. It was a great plot twist and a great ending. I really recommend you to read Everything, Everything and I hope that you won't get spoiled before you do! :)
+ It was not predictable!
+ That plot twist!!
+ The characters were lovely
+ THE COVER *heart eyes*
+ The main character is a BOOK LOVER!
Why should you read this?
Because it's (one of) my favorite(s) this year, and a lot of people, I am sure, can agree with me. It's just a beautiful book that everyone should read.
About Nicola Yoon:


Nicola Yoon grew up in Jamaica (the island) and Brooklyn (part of Long Island). She currently resides in Los Angeles, CA with her husband and daughter, both of whom she loves beyond all reason. Everything, Everything is her first novel.