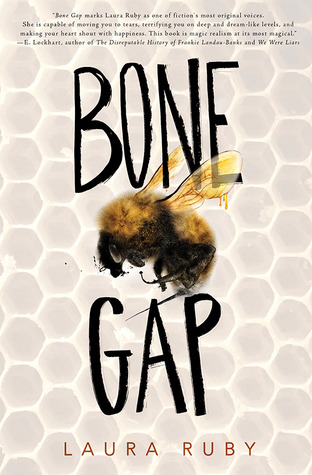 Title:
Bone Gap
Author:
Laura Ruby
Series:
-
Genre:
Young Adult, Fantasy, Magical Realism, Mystery
Pages:
373
Published:
March 3rd 2015 by Balzer + Bray
My rating: 5/5


Summary: Everyone knows Bone Gap is full of gaps—gaps to trip you up, gaps to slide through so you can disappear forever. So when young, beautiful Roza went missing, the people of Bone Gap weren't surprised. After all, it wasn't the first time that someone had slipped away and left Finn and Sean O'Sullivan on their own. Just a few years before, their mother had high-tailed it to Oregon for a brand new guy, a brand new life. That's just how things go, the people said. Who are you going to blame? Finn knows that's not what happened with Roza. He knows she was kidnapped, ripped from the cornfields by a dangerous man whose face he cannot remember. But the searches turned up nothing, and no one believes him anymore. Not even Sean, who has more reason to find Roza than anyone, and every reason to blame Finn for letting her go. As we follow the stories of Finn, Roza, and the people of Bone Gap—their melancholy pasts, their terrifying presents, their uncertain futures—acclaimed author Laura Ruby weaves a heartbreaking tale of love and loss, magic and mystery, regret and forgiveness—a story about how the face the world sees is never the sum of who we are (via Goodreads.com).
First sentences: "The people of Bone Gap called Finn a lot of things, but non of them was his name. When he was little, they called him Spaceman. Sidetrack. Moonface."
My review
This book was so fantastic and interesting and unique. I really enjoyed reading it! This is one of those books I didn't know much about when I picked it up, and that was a BIG PLUS.
I read
Bone Gap
in about a day because I was so excited to know moremoremore. The story was very well written and easy to follow. The language itself was simple to read and the book was really fast paced, which is the most excellent combination. I really enjoyed Laura Ruby's writing. The chapters are divided in different perspectives. Finn's perspective is the main one, but we also get to follow Roza (often) and Priscilla (plus a few more).
"Funny how you notice how beautiful things are just when you're about to leave them."
I really liked the characters in
Bone Gap
(most of them), particularly Finn and Petey/Priscilla. The
thing
about Finn was very well thought out and remarkably clever. I seriously got goosebumps when I read it, I thought it was brilliant. I'm fascinated by things like that in real life so that may be why (
the first thing I did was to google it
). Petey was such a cool and interesting character.
Odd
is a word that describes her perfectly. Both of them seemed like really nice people, although Petey was rather harsh (is that the right word? I don't know). One character I didn't like was Sean. NOPE I didn't feel for him. Sure he had been through a lot but he wasn't nice to his brother at all. And of course, I hated the man-whose-face-Finn-cannot-remember!
I loved how Laura Ruby mixed magic with reality. The magical realism was perfect for this story. It's why I liked the book so much. It almost felt like there was more than one book in this book. I liked that a lot. I would love to read a longer story from all the places where Roza was taken. The world building was super, at least in the "real world". The "magical world" was almost like a fairy tale and therefore harder to imagine, but I loved it anyways.
"But wasn't that love? Seeing what no one else could?"
My least favorite thing was the fact that the ending was quite sudden. It was good, but things happened to fast. And I feel like the ending (the part where, without spoiling too much, Finn is a hero) was a little childish, and not YA. I can't really explain why I feel like that, I just do.
+ Magical realism is something new for me and I really liked it.
+ It was actually a little bit scary and I loved that.
+ I loved that all characters where kind of odd and different.
+ MYSTERY!!
+ Love the cover. I need to have this in real life, not only as an e-book.
Why should you read this?
It's about a special boy, in a special town, with special people. Something like that. It's a unique story and it has magic in it! What more would you need?