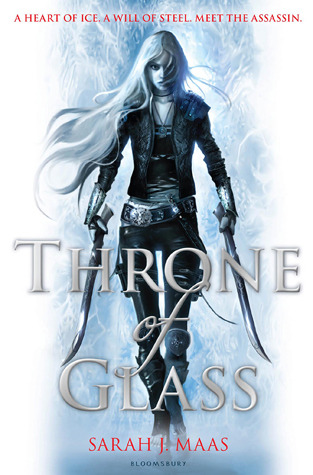 Title:
Throne of Glass
Author:
Sarah J. Maas
Series:
Throne of Glass #1
Genre:
Young Adult, Fantasy > Magic, High Fantasy, Romance
Pages:
404
Published:
August 2nd 2012 by Bloomsbury
My rating: 5/5


Summary: Meet Celaena Sardothien. Beautiful. Deadly. Destined for greatness. In the dark, filthy salt mines of Endovier, an eighteen-year-old girl is serving a life sentence. She is a trained assassin, the best of her kind, but she made a fatal mistake: she got caught. Young Captain Westfall offers her a deal: her freedom in return for one huge sacrifice. Celaena must represent the prince in a to-the-death tournament—fighting the most gifted thieves and assassins in the land. Live or die, Celaena will be free. Win or lose, she is about to discover her true destiny. But will her assassin's heart be melted? (via Goodreads.com).
First sentence:
"After a year of slavery in the Salt Mines of Endovier, Celaena Sardothien was accustomed to being escorted everywhere in shackles and at swordpoint."
My review
Oh well. I'm one of you now. I have finally read this super hyped book and I loved it, of course. I knew I would. Sarah J. Maas was always an author everyone talked and hyped about on Tumblr, YouTube and Instagram, but I never seemed to pick her first book up. Until now!! Best decision ever. I'm so happy that I have so many books of hers left to read... That means I have lots of fantastic reading to do :)
Throne of Glass was such a surprise to me. I loved that it had magic in it! And it was actually kind of scary. I had no idea about that before. I was also pleasantly surprised that most characters were more genuine and loving than I thought they would be. I actually got a bad impression of the characters back when I tried to read it about 1 year ago. How's that even possible?
"Libraries were full of ideas–perhaps the most dangerous and powerful of all weapons."
Celaena was a fantastic character. I really liked the thought of a girl assassin and the fact that she was
the best of her kind
. She was a tough character but she was also the opposite way, and I loved that. I enjoyed Celaena's way through the tournament so much and the end of the "competition" was awesomely scary and creepy and very
my-heart-is-pounding-so-faaast
. I really liked those parts of the book.
And let's talk about Chaol Westfall and Prince Dorian.. Oh my. I loved both of them! But... I know that there's a chance that I will love one of them more when I continue reading the rest of the series. I don't know who that will be though. I hope that it'll be Chaol, because that would be rather unexpected. I loved Chaol and Celaena's relationship!
And I can not forget to mention the writing, for the reason that it was lovely. Sarah J. Maas is an incredible writer and I love her world building and everything she does. Although, there were lots of words I didn't understand. You should have seen all my screenshots of all the translations. It was hard for me to move on from a word I didn't understand if I didn't know what it meant. But it worked out :)
Why should you read this?
Because you wouldn't want to miss out on this amazing book! And because of MAGIC! And an awesome assassin! Lovely characters (I fell in love with a couple).
Other books in the series: