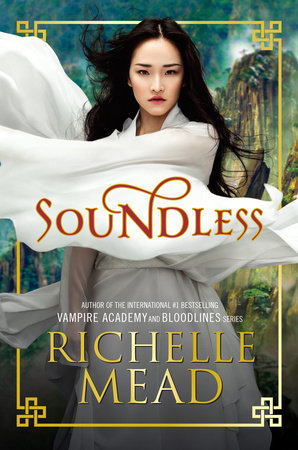 Title:
Soundless
Author:
Richelle Mead
Series:
-
Genre:
Young Adult, Fantasy > Mythology > Chinese folklore
Pages:
272
Published:
November 10th 2015 by Razorbill
My rating: 3/5 : It was OK


Summary: For as long as Fei can remember, there has been no sound in her village, where rocky terrain and frequent avalanches prevent residents from self-sustaining. Fei and her people are at the mercy of a zipline that carries food up the treacherous cliffs from Beiguo, a mysterious faraway kingdom. When villagers begin to lose their sight, deliveries from the zipline shrink and many go hungry. Fei's home, the people she loves, and her entire existence is plunged into crisis, under threat of darkness and starvation. But soon Fei is awoken in the night by a searing noise, and sound becomes her weapon (via Goodreads.com).
First sentences:
"MY SISTER IS IN TROUBLE, and I have only minutes to help her. She doesn't see it. She's having difficulty seeing a lot of things lately, and that's the problem."
My review
I was so intrigued and excited to read this. I love mythology and folklore (chinese folklore sounded very cool too) so
Soundless
was definitely a book I wanted to read. Unfortunately, I am disappointed. I never felt a connection to any of the characters and I didn't really care about them. The book was so slow in the beginning and that made me lose interest. And there's basically one thing only that really proves that the book is, in fact, set in China, and it's the names (Fei, Li Wei, Zhang Jing etc).
Fei, the main character, was... OK. Not my favorite character in the book. She was brave and she cared for the people in her village. But as I mentioned above, I didn't feel a connection towards her, or any of the characters at all. I don't know why I never cared for her, but I just didn't
understand
her, if that makes sense.
Li Wei was the character I liked the most in the book. His and Fei's relationship was rather dull and... strange? Sure, they had known each other forever, but it felt too expected and forced. But maybe that was the point, who knows? And Fei's relationship with her sister was also kind of weird. Her sister Zhang Jing was the older sibling, but Fei was the one who had all the responsibility in their relationship. To me it felt like Fei was the older one, not the other way around.
The world building was not the best. It wasn't hard to create a picture of the village in my head though, but I had trouble imagining the mountain and how people made their way down. I never understood how it worked with the ropes (maybe I'm just dumb). And I didn't get a picture of the city either, so that's unfortunate.
The story went by too fast in my opinion. It was slow to read, but everything in the book happened in a matter of days, and that didn't feel realistic nor believable to me. Their adventure lasted for 3 days.. At max? I don't know. But it didn't feel real that they figured everything out in 3 short days.
Let's move on to the plot and the reason they got blind/deaf in the first place. Nope. It did not feel real either. I had wished for something more thoughtful and something really clever. Not the easiest solution, which it felt like. Although, we got some fantasy in the end and that's fun I guess.
So yup, it seems like I am more of a Vampire Academy fan.
Why should you read this?
If you're looking for quick read, a quite unique fantasy book or a book with Chinese influences, you should read this.
Other books by Richelle Mead: