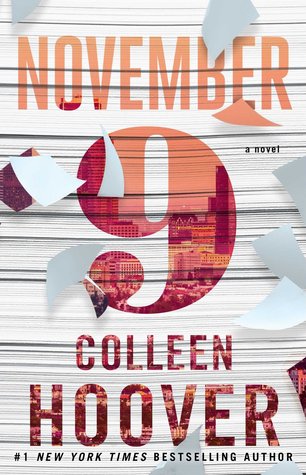 Title:
November 9
Author:
Colleen Hoover
Series:
-
Genre:
New Adult, Romance, Contemporary
Pages:
310
Published:
November 10th 2015 by Atria
My rating: 5+/5 : I LOVED THIS!!


Summary: Fallon meets Ben, an aspiring novelist, the day of her scheduled cross-country move. Their untimely attraction leads them to spend Fallon's last day in L.A. together, and her eventful life becomes the creative inspiration Ben has always sought for his novel. Over time and amidst the various relationships and tribulations of their own separate lives, they continue to meet on the same date every year. Until one day Fallon becomes unsure if Ben has been telling her the truth or fabricating a perfect reality for the sake of the ultimate plot twist (via Goodreads.com).
First sentences:
"I wonder what kind of sound it would make if I were to smash this glass against the side of his head. It's a thick glass. His head is hard. The potential for a nice big THUD is there."
Prepare for lots of "
I loved this…I loved that...
" in this review!
My review
This is, without doubt, one of the best books I've read this year!!
I have never before read a book by
Colleen Hoover
and I wasn't really planning on doing it either, but I decided to give
November 9
a try and holy moly... it was incredible. Just... WOW!! This was my first book of hers that I read, and definitely not my last. Colleen Hoover's writing is flawless, which is probably why I adored this book as much as I did.
First of all, I read this book in less than a day. That's how good it was! I couldn't fall asleep last night when I put the book away, thank you Colleen Hoover. I couldn't stop thinking about it. And let's be honest, I still can't.
"You can't leave yet. I'm not finished falling in love with you."
I loved the concept, the fact that they only met once a year, on November 9 of course. It made me so excited to read it. I love how they met for the first time. It was so hilarious and... perfect. That's one of my favorite scenes in the book. One out of many.
And Benton (I love his name) and Fallon... They were amazing, brilliant, vivid, interesting... They were perfect for this book and for the story. I really cared about them and I wanted to know more and more and more about them. Especially about Ben, considering he's the "mysterious" one in this story. I truly love the two of them together since day one.
The plot twist was totally unexpected and I was
very
shocked. Although, I knew it would be something like that, in that direction... It was a very good plot twist and it made everything so much more interesting and thrilling.
"You'll never be able to find yourself if you're lost in someone else."
I loved to read from Ben's point of view in his book and to get to know him better was something I really appreciated. Although it made me sad, it also made me relieved that Fallon finally got to see things from his perspective.
I didn't cry, as I know a lot of people did. But I was affected by so many things in this book, you have no idea. This book made my smile and it made me very happy too, although it made me so very sad as well. I felt heartbroken a couple of times throughout this book, but I was prepared for that. It was a powerful book that way and it made me think about how lucky I am.
I loved this book with all my heart and it's maybe one of the best books I've EVER read. It was simply incredible♥
Why should you read this?
It was a FANTASTIC book. Both funny and sad. It made me so happy and it really made me smile. And it has a kind of wicked plot twist. Pick it up!
Other books by Colleen Hoover: