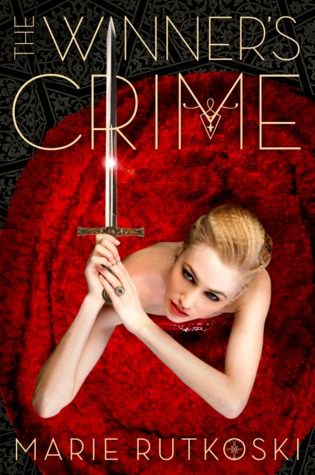 Title:
The Winner's Crime
Author:
Marie Rutkoski
Series:
The Winner's Trilogy, #2
Genre:
Fantasy, Young Adult, Romance
Pages:
400
Published:
March 12th 2015 by Bloomsbury Children's
My rating: 5/5
Summary: The engagement of Lady Kestrel to Valoria's crown prince means one celebration after another. But to Kestrel it means living in a cage of her own making. As the wedding approaches, she aches to tell Arin the truth about her engagement... if she could only trust him. Yet can she even trust herself? For—unknown to Arin—Kestrel is becoming a skilled practitioner of deceit: an anonymous spy passing information to Herran, and close to uncovering a shocking secret. As Arin enlists dangerous allies in the struggle to keep his country's freedom, he can't fight the suspicion that Kestrel knows more than she shows. In the end, it might not be a dagger in the dark that cuts him open, but the truth. And when that happens, Kestrel and Arin learn just how much their crimes will cost them (via Goodreads.com).
First sentence:
"She cut herself opening the envelope. Krestel had been eager, she'd been a fool, tearing into the letter simply because it had been addressed in Herrani script."
The Winner's Curse was so incredible (
my review
) and made my expectations for the second book sky high. I'm glad to tell you that The Winner's Crime lived up to my expectations (to say the least). I'm not shocked at all that it did.. Like, why wouldn't it?
I loved that we got the chance to see more of the world in book two. And Marie Rutkoski has the most beautiful writing which makes everything so realistic. And it's so easygoing and flowy too (something I appreciate so much in a book). The world is lovely and it reminds me of the Roman world and ancient Greece. I loved all the places the book took me, especially the east but also the town by the harbor.
As I mentioned before, I liked this book more than the first. It was much more thrilling and it felt like it had something deeper to it. More to the story and a very intriguing plot with so many WOW moments. Rutkoski added some history to it; we had the opportunity to see more sides of the story, the good and the bad, and that's very refreshing. And the book was so clever and well thought out. Although, it was rather painful.
"If you won't be my friend, you'll regret being my enemy."
Risha was a new character who I found very interesting and I enjoyed her story (even though the book didn't say too much about her and her story). Her life seems quite interesting and I hope we'll see more of her later on. And Tensen.. I really liked him and he was a perfect father figure for Arin. He cared so much for him.
And I can't forget Kestrel! She was great. A lot of characters were great actually. Kestrel was such a surprise in The Winner's Crime. She's so much smarter and braver than I could have imagined. I loved to follow her thoughts and to see her reactions and decisions she made throughout the book. And Arin.. What can I say? Kestrel and Arin misunderstood each other all the time in this book and I couldn't bear to read it. It was awful and too complicated, and of course heartbreaking. The end messed it all up and I am so incredibly frustrated about that.
THIS BOOK GUYS! It was perfect in every way and much more heartbreaking than The Winner's Curse. The end still hurts and I can not stop thinking about it. If you haven't read the books you really should. This series is lovely and it's now one of my favorites!