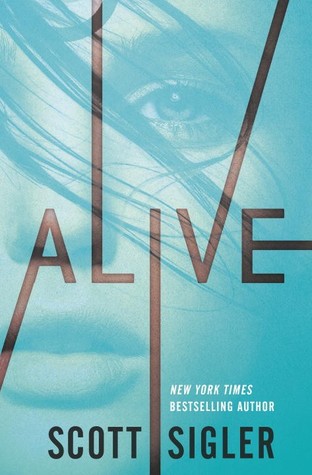 Title:
Alive
Author:
Scott Sigler
Series:
The Generations Trilogy, #1
Genre:
Young Adult, Sci-Fi > Dystopia, Mystery
Pages:
368
Published:
July 14th 2015 by Del Rey
Rating:
4,25/5
Goodreads | Book Depository | Adlibris (SE)
Summary: A young woman awakes trapped in an enclosed space. She has no idea who she is or how she got there. With only her instincts to guide her, she escapes her own confinement—and finds she's not alone. She frees the others in the room and leads them into a corridor filled with the remains of a war long past. The farther these survivors travel, the worse are the horrors they confront. And as they slowly come to understand what this prison is, they realize that the worst and strangest possibilities they could have imagined don't even come close to the truth (Goodreads.com).
SPOILERS!!
DO NOT READ THE TEXT WITH BLACK MARKING! YOU HAVE BEEN WARNED!
My thoughts:
I knew almost nothing about
Alive
when I decided to read it. I had heard a few things on YouTube, which basically was this:
"A young woman awakes trapped in an enclosed space. She has no idea who she is or how she got there"
. Let me tell you, it's the best thing not to know much about Alive from the start.
The beginning of the book was a little confusing to me because it started off rather quick, or at least with a lot of information. Let's just say that it was many things you needed to try to understand at one time. But of course, I didn't know anything about anything, so all the information was necessary.
"Don't base reality on what you have seen when you have seen very little."
The writing was OK, a little all over the place in a few places and some things were in repeat pretty often, but I didn't mind, really. I always focus on the book as a whole!
Though at first it was strange with all the talk about how beautiful everyone was...
The characters were nothing special, but I liked some of them despite that (and I hated a few too. When you read the book you'll know whom I'm talking about).
The middle of the book was rather uneventful in my opinion, but I always knew that something was about to happen any second. Which it did, of course. From the middle to the end (as I devide the book), everything happens at the
same
time.
The weird non-humans show up, it turns out that they are the same people but from the past (quite confusing!!??). There's dead babies everywhere, they are chasing a pig into a garden IN SPACE. The real humans are the only ones that survived and they are the ones who will travel with ship to the ground..

Over all, Alive was a good book, I really liked it and I recommend it to all of you! :) I have been thinking about the end on a daily basis since I finished it, and I can't get myself to stop. I need the second book, Alight, asap. For those who wonder, book #2 is expected February 2nd, 2016!
I read Alive as an E-book from August 10 to 11, 2015
Did the book sound interesting? Click the button and add it to your Goodreads TBR-list!