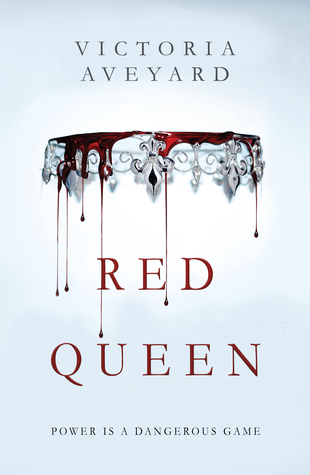 Red Queen
Author:
Victoria Aveyard
Series:
Red Queen, #1
Genre:
Young Adult, Fantasy, Sci-Fi > Dystopia
Pages:
320
Published:
February 10th 2015 by HarperTeen
Summary: Mare Barrow's world is divided by blood--those with common, Red blood serve the Silver- blooded elite, who are gifted with superhuman abilities. Mare is a Red, scraping by as a thief in a poor, rural village, until a twist of fate throws her in front of the Silver court. Before the king, princes, and all the nobles, she discovers she has an ability of her own.
To cover up this impossibility, the king forces her to play the role of a lost Silver princess and betroths her to one of his own sons. As Mare is drawn further into the Silver world, she risks everything and uses her new position to help the Scarlet Guard--a growing Red rebellion--even as her heart tugs her in an impossible direction. One wrong move can lead to her death, but in the dangerous game she plays, the only certainty is betrayal. - Goodreads
My Spoiler Free Review:
My expectations before reading this books where almost sky high. After everything good I had heard about Red Queen, there could be nothing wrong with it. I'm glad to say that I'm not disappointed. It was quite long ago I read a dystopian book that caught me from the very beginning, just as this book did. I'm happy that I found Red Queen and that the cover is so pretty – because if it wasn't for the gorgeous cover (and of course, the amazing reviews as well), I'm not 100% sure that I would have read it. Let's be honest – I can't be the only one judging books by their covers.
"Their blood is a threat, a warning, a promise. We are not the same and never will be."
The beginning of the book was fast paced and it made me very intrigued – as I had hoped. Mare's situation was so messed up, and her fate, her hidden power, made me keep on reading. I love books where a character finds out something about him/her self that can change the world, sort of. I loved the scene when she found out that she had powers. That was awesome. And the scene when she saw the princes... An OMG-moment for Mare to say the least.
Around half way in (more beginning than end), the book got a little bit slow. Nothing that bothered me that much, because I don't like when things happen ALL the time. But it took the excitement away even just for a second, or maybe for a few chapters. It didn't matter though because you got to see more of Cal, which was exciting in its own way.
"I have lived that life already, in the mud, in the shadows, in a cell, in a silk dress. I will never submit again. I will never stop fighting."
The beginning of the end was great. You finally got to see the world from another perspective. I liked it very much. As soon as Mare and the others teamed up, it started to get exciting and a little scary. In the early end of the end (there a lot of parts) the epic betrayal reveals. It didn't shock me as much as I wished it had, but it was an awesome way to end the book. Now when I think about it, there was many great things that happend in the end. I really enjoyed it.
Rating: ~ 4,75 / 5
Did the book sound interesting? Add it to your Goodreads!