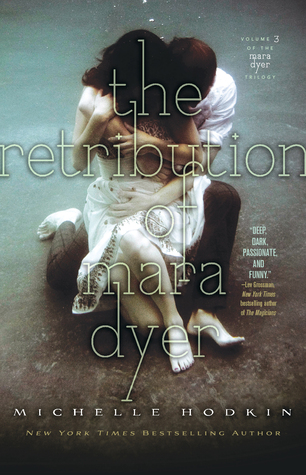 Title:
The Retribution of Mara Dyer
Author:
Michelle Hodkin
Series:
Mara Dyer #3
Genre:
Young Adult, Paranormal, Romance
Pages:
470
Published:
November 4th 2014 by Simon & Schuster Books for Young Readers
My Rating:
4/5
Summary: Mara Dyer wants to believe there's more to the lies she's been told. There is. She doesn't stop to think about where her quest for the truth might lead. She should. She never had to imagine how far she would go for vengeance. She will now. Loyalties are betrayed, guilt and innocence tangle, and fate and chance collide in this shocking conclusion to Mara Dyer's story. Retribution has arrived (via Goodreads.com)
Only read this part if you want to avoid being spoiled:
Summary of my thoughts: A good conclusion I'll have to say, even though my expectations were higher. I like these books so much, but I didn't like this one as much as the other two. The Retribution was indeed an amazing book but there was too many ideas thrown into it and it made me kind of confused at some points. But I liked it overall and it is still one of my favorite series.
THOUGHTS:
Okay okay okay. This will be hard for me to put into words. I have so many feelings towards this book and this series as a whole. I really enjoyed The Retribution at times, but it took me so so long to finish it that I lost my flow and forgot like almost everything.
Let's start with the two most important main characters in this book. Still loving Noah!! He's perfect in every way. It was such a pity that he was gone like through the whole book. Mara's a little too weird I think. Sometimes I like her and sometimes I don't. What I liked is that she has developed so much from the beginning til now.
Some things that I liked was the memories and the flashback's. Really enjoyed them but I think that there could have been more potential behind them, if you understand what I mean.
Feeling a little like this.
I didn't really like the first part, like the first 100 pages or so. The details/moments/events aren't stuck in my head and didn't leave anything to remember if I think about it now. Pretty sad.
At last I would like to say that the ending wasn't what I had expected, but how often does that happen anyway? I didn't like the final pages even though it ended more than good, almost too good to be true. I don't mind but I would have loved to have something more, I don't know what but something is missing :P I loved the final line though!
"My name is not Mara Dyer, but my lawyer told me I had to choose something".
Did the book sound interesting? Add it to your Goodreads!