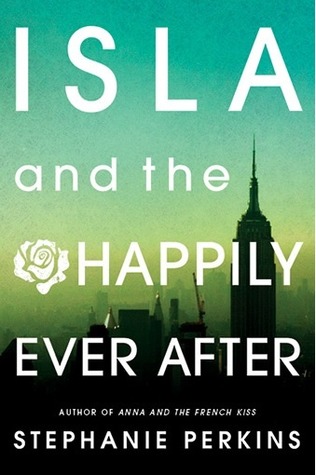 Title:
Isla and the Happily Ever After
Author:
Stephanie Perkins
Series:
Anna and the French Kiss #3
Genre:
Young Adult, Contemporary, Romance
Pages:
352
Published:
August 14th 2014 by Dutton
My Rating:
4,25/5
Summary: Hopeless romantic Isla has had a crush on introspective cartoonist Josh since their first year at the School of America in Paris. And after a chance encounter in Manhattan over the summer, romance might be closer than Isla imagined. But as they begin their senior year back in France, Isla and Josh are forced to confront the challenges every young couple must face, including family drama, uncertainty about their college futures, and the very real possibility of being apart (via Goodreads.com).
Only read this part if you want to avoid being spoiled:
Summary of my thoughts: Super cute and fast read! A lovely conclusion to the series indeed. I loved this book and I really liked that it took place in both France and America (....and Barcelona). I think I'll say that Isla is my second favorite in this series, although I would like it to be my favorite. But I couldn't lie that much to myself. Anna will always be closest to my ♥ out of these three books.
THOUGHTS (not-so-many-because-I-fangirl-most-of-it-okay):
So... I loved loved loved this book A LOT. I got the same swooning/fangirl feelings from this one too. This was a lovely conclusion as I mentioned above! And Stephanie Perkins is perfect, as always. I don't understand how she does it. Everything feels so real, it's kind of weird. I felt all the feeling that Isla felt and I loved it!! I need more of her books. They are so so good OMG♥
I loved Isla and Josh's relationship so much.
It made me so happy that they were a couple from beginning to end. I was so relieved that there wasn't another boy/girl who got between them (thinking about some kind of love triagle), it really worked for them (most of the time) which made me happy :)
I had this oh-no-scenario that I really thought would happen but it didn't!! It made me so so happy! It was the thought of Rashmi coming back.. and you know, getting back with Josh again, which should be the worst thing ever OMG.
One thing that made me a little "angry" was that she broke up with Josh??! Why would she do that?! It didn't last long but anyways. It wasn't fair at all. That was very selfish.. NOT OKAY.
And gosh, that end was A DREAM! Seriously, I couldn't think about something better than that♥ It was perfect in all ways! I loved that you got to know what happend with the other characters. Anna and Étienne are so cute!♥♥
A must-read for you who have read the first and second book! I wouldn't recommend you to read this if you have not read the previous books :) Read this series, you will not regret it, I promise!
Did the book sound interesting? Add it to your Goodreads!