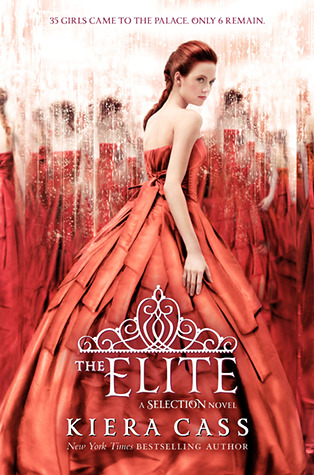 Title:
The Elite
Author:
Kiera Cass
Series:
The Selection #2
Genre:
Young Adult, Dystopian, Romance
Pages:
336
Published:
April 23th 2013 by Harper Collins USA
My Rating:
4/5
Summary:Thirty-five girls came to the palace to compete in the Selection. All but six have been sent home. And only one will get to marry Prince Maxon and be crowned princess of Illea. America still isn't sure where her heart lies. When she's with Maxon, she's swept up in their new and breathless romance, and can't dream of being with anyone else. But whenever she sees Aspen standing guard around the palace, and is overcome with memories of the life they planned to share. With the group narrowed down to the Elite, the other girls are even more determined to win Maxon over—and time is running out for America to decide. Just when America is sure she's made her choice, a devastating loss makes her question everything again. And while she's struggling to imagine her future, the violent rebels that are determined to overthrow the monarchy are growing stronger and their plans could destroy her chance at any kind of happy ending (via Goodreads.com).
Quick summary of my thoughts:
I liked this book, but not near as much as the first one. I really disliked that America couldn't choose whether she liked Maxor or Aspen. Ugh so annoying. And nothing "epic" happened either (that I remember anyway), which was kind of sad :(
This review may be.. VERY SHORT and.. well, bad. I don't remember much from the book.. SORRY!
THOUGHTS:
I do not have as many thoughts as when I read the Selection, I'm afraid. First of all, I don't remember so many details from this book and second of all, nothing OMG happend?!!? I mean, I don't think so.. Because I don't remember.
I still liked America in the Elite, exept her disability to choose. Goddamn America. Just choose Maxon already. Aspen.. I don't know what I think about him. I liked him in the Selection, but I'm just angry that he came to the Palace in the first place. I still adore Maxon though, he's perfection.
Maxon ♥
I don't know what you think but: where did all the other characters go?? It was like America/Maxon/Aspen all the time. Which I don't mind, but anyway. And whenever another character came by to hang out with Maxon America got so so jealous. Please, he loves you, It's your own fault. You made a choice not to choose him right away! It made me angry.
At least I can show you some of my reactions to this book instead of writing more useless sentences.
OKAAYY?
A little bit like this...


If you have read the first book, The Selection, you should definitely read this!
Did the book sound interesting? Add it to your Goodreads!